Elite SFN fighters David Pang and Joseph Gibson
25-Apr-2016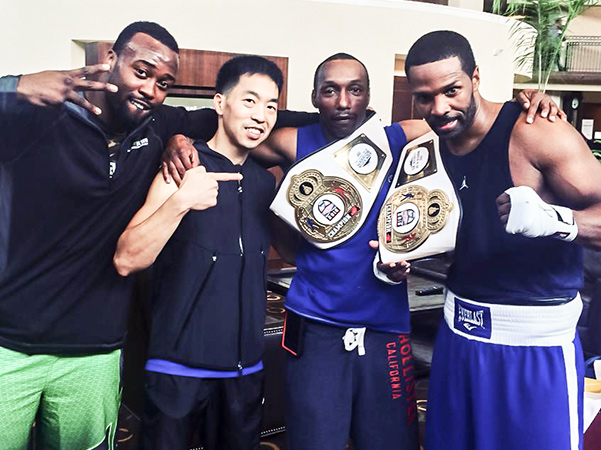 David's magnificent story.....
David Pang is 42 years of age. David started training over a year ago with Kwame and asked, Does this gym build champions? Ever since then Kwame and David have been working hard to achieve the road to success with training two hour sessions at a time, out working all the twenty year old fighters and teens. David has endured countless days of aches and pains, but nothing stopped his road to the 2016, 5th Annual Masters Class Tournament. David fought his way into the championship and lost a close decision. David was back in the gym the following Monday willing to work hard and fulfill his dream of winning a national masters tournament.
Joe Gibson is 41 years of age. Joe has never won a regional, local, or national title. Despite having boxed for several years, he lost a decision a few years ago in a Florida tournament. This left a sour taste he needed to get rid of. After the tournament, Joe said, I will make sure never to lose the opportunity to win at a big level again. Fast forward to March 18th, 2016. Joe entered the tournament already feeling like an underdog. Fighting his way to the championship fight, he not only won the tournament at his bracket but scored a knockdown from a jab in second round on his opponent and won the championship by decision.
The big deal is - you don't find your everyday 40 year old entering in national boxing tournaments, but what we see here is two tremendous people not giving up on a dream they always had. With anything you believe, hard work and a dream equals your success.
We build Champions.
Tell A Friend
---