Remembering Muhammad Ali
06-Jun-2016
Muhammad Ali beat more champions and top contenders than any heavyweight champion in history. He defeated heavyweight kings Sonny Liston (twice), Floyd Patterson (twice), Ernie Terrell, Jimmy Ellis, Ken Norton (twice), Joe Frazier (twice), George Foreman and Leon Spinks. He defeated light-heavyweight champs Archie Moore and Bob Foster. Ali defeated European heavyweight champions Henry Cooper, Karl Mildenberger, Jürgen Blin, Joe Bugner, Richard Dunn, Jean-Pierre Coopman and Alfredo Evangelista. He defeated British and Commonwealth king Brian London. All of Ali's defeats were by heavyweight champions: Frazier, Norton, Spinks, Larry Holmes and Trevor Berbick. Ali also beat undefeated fighters Sonny Banks (12-0), Billy Daniels (16-0), 'Rudi Lubbers' (21-0) and George Foreman (40-0).
Muhammad Ali Quotes
"I am an ordinary man who worked hard to develop the talent I was given. I believed in myself, and I believe in the goodness of others."
"I'm so fast that last night I turned off the light switch in my hotel room and was in bed before the room was dark."
"My trainer don't tell me nothing between rounds. I don't allow him to. I fight the fight. All I want to know is did I win the round. It's too late for advice."
"The man who has no imagination has no wings."
"It's the repetition of affirmations that leads to belief. And once that belief becomes a deep conviction, things begin to happen."
"Age is whatever you think it is. You are as old as you think you are."
"Service to others is the rent you pay for your room here on earth."
"Cassius Clay is a name that white people gave to my slave master. Now that I am free, that I don't belong anymore to anyone, that I'm not a slave anymore, I gave back their white name, and I chose a beautiful African one."
"It isn't the mountains ahead to climb that wear you out; it's the pebble in your shoe."
"I have been so great in boxing they had to create an image like Rocky, a white image on the screen, to counteract my image in the ring. America has to have its white images, no matter where it gets them. Jesus, Wonder Woman, Tarzan and Rocky."
"Allah's the Arabic term for God. Stand up for God, fight for God, work for God and do the right thing, and go the right way, things will end up in your corner."
"Wars of nations are fought to change maps. But wars of poverty are fought to map change."
"I'm the greatest thing that ever lived! I'm the king of the world! I'm a bad man. I'm the prettiest thing that ever lived."
"I don't have to be what you want me to be."
"If they can make penicillin out of mouldy bread, they can sure make something out of you."
"Only a man who knows what it is like to be defeated can reach down to the bottom of his soul and come up with the extra ounce of power it takes to win when the match is even."
"The word 'Islam' means 'peace.' The word 'Muslim' means 'one who surrenders to God.' But the press makes us seem like haters."
"Friendship... is not something you learn in school. But if you haven't learned the meaning of friendship, you really haven't learned anything."
"If you even dream of beating me you'd better wake up and apologize."
"I've made my share of mistakes along the way, but if I have changed even one life for the better, I haven't lived in vain."
"He who is not courageous enough to take risks will accomplish nothing in life."
"Float like a butterfly, sting like a bee."
"Friendship... is not something you learn in school. But if you haven't learned the meaning of friendship, you really haven't learned anything."
"I done wrestled with an alligator, I done tussled with a whale; handcuffed lightning, thrown thunder in jail; only last week, I murdered a rock, injured a stone, hospitalised a brick; I'm so mean I make medicine sick."
"I hated every minute of training, but I said, 'Don't quit. Suffer now and live the rest of your life as a champion."
"I know where I'm going and I know the truth, and I don't have to be what you want me to be. I'm free to be what I want."
"People don't realize what they had till it's gone. Like President Kennedy, there was no one like him, the Beatles, and my man Elvis Presley. I was the Elvis of boxing."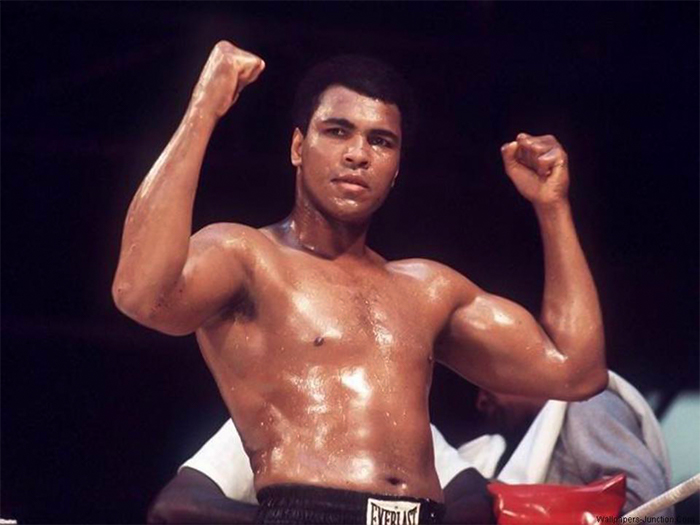 Tell A Friend
---