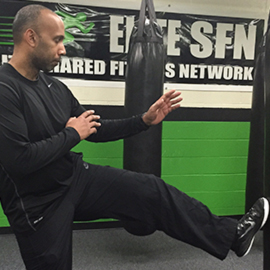 Joel Braxton
Kickboxing Instructor
{module_facebooklike moduleTemplateGroup="Default" url="http://www.elitesfn.com/instructor/joel-braxton " layout="standard" showFaces="true" verb="like" colorScheme="light"}
{module_facebookcomments url="http://www.elitesfn.com/instructor/joel-braxton" moduleTemplateGroup="Default" colorScheme="light"}
Joel Braxton grew up in a household of the military and martial minded.
His Grandfather a Sergeant Major in the US Army, his father was a brown belt in Aikido and a long time student in Bando.
At a young age Joel was introduced to wrestling and boxing. While still in Elementary School he was introduced to gōngfu (kung fu, 功夫) through his brother Thomas who was practicing Seven Star Praying Mantis (七星螳螂) and Chang Chuan (长拳 ). After a term in the US Army, Joel returned home to continue his training with his brother, who was learning Hung Ga (洪家) at The Harmonious Fist Hung Ga Tiger Crane Gung Fu from Wayne Stevenson (Sifu*), student of the renowned Josephus Colvin (Sifu). Joel had the privilege of being under their guidance for many good years. Colvin Sifu moved to Texas and recommended that Joel continue his training under Colvin Sifu's beginning system, Jow Ga (周家) taught by Sifu Derek Johnson (Cheung Tai Lik Sifu 張大力師傅).
Joel joined Sifu Johnson at the 周家功夫體育協會 Jow Ga Kung Fu Athletic Association. After 9 years Joel is the assistant head instructor at the association and is recognized as a disciple** of Jow Ga Kung Fu system. Jow Ga is a family system of kung fu that incorporates muscular and power hand skill with swift and complex footwork, making it a very effective form of self-defense with emphasis on simultaneous attack and defense. In addition, Joel is well versed in Yang-style Taiji (Tai Chi, 楊氏太極) and Qigong (氣功), knows of Chen Tai Chi, Tae Kwon Do and Tien Shan Pai. Over the years Joel has become certified personal trainer while working at Fitness Together (ISSA Personal Trainer Certification, Cardio Boxing and Advanced Cardio Boxing Fitness Trainer Certification).
*Sifu is Cantonese for teacher/father
**Disciple in Chinese martial arts is someone who's sworn duty is to honor his teachers (ancestors and system) by maintaining the lineage and art.