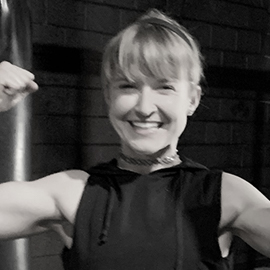 Megan Carpenter
Kickboxing, Personal Trainer
I have been passionate about physical fitness my entire life. I have played sports and worked out since I can remember and skiing since I was 3 years old. I love to run, lift weights, and play field hockey when I am not on the mat. I fell in love with boxing and kickboxing because it is fun, empowering, and one of the hardest workouts you will find. I went to McDonogh School and the College of Charleston. I have been boxing and kickboxing since 2017.
I have been a kickboxing instructor since March of 2019 and training weekly at the Under Armour World Headquarters for boxing. I am currently in the process of getting my ACE personal training certification. I am CPR certified. I have over 160 hours of education and training in herbal/homeopathic medicine, and 200 hours in permaculture/sustainable agriculture.
Basically, I will kick your butt and heal it at the same time! Some fun facts about me are that I was born right here in Hunt Valley, MD, am a huge hippie, I dumpster dive and pick up trash regularly, I am fluent in German, I have 6 rescue cats, and my favorite food is watermelon. See you on the mat soon!