About Our Gym
Join Our Gym Community
Our gym community is built on inclusivity, support, and motivation. It encourages members to connect, share goals, and celebrate achievements. It fosters a positive environment where everyone feels comfortable and motivated to reach their fitness goals. By organizing group activities, promoting teamwork, and providing opportunities for social interaction, the Elite Boxing & Fitness gym community becomes a place where people feel inspired and supported on their fitness journey.
Create a healthy and fit lifestyle.
Since 2013, Elite Boxing & Fitness has helped individuals create a healthy and fit lifestyle involving health and wellness. In a constantly growing and expanding society, Elite Fitness plans to help everyone live a healthy lifestyle with a healthy mindset. Elite Boxing ensures the health and wellness of all, including the youth. Providing our youth's physical and mental stability ensures a brighter future for these individuals and their communities.
Elite Boxing would not only like to address the current concerns for obesity, crime, and poverty but also to take immediate action to rehabilitate the youth and community. Childhood obesity has reached epidemic rates and continues to rise to mental, social, physical, and emotional health issues that only get within time. Action must be taken immediately as time only increases the issue. Nearly one-third of children in America are overweight or obese, a rate that has tripled in adolescents and more than doubled in younger children since 1980. One-third of all individuals born in the year 2000 or later will eventually suffer from health issues such as diabetes, heart disease, high blood pressure, cancer, and asthma throughout their lifetime. Without the proper tools and intervention, this problem will only become a more significant issue than it already is, so it is essential to take action immediately.
Children Are Our Future Leaders.
Children are our future leaders; our job is to educate and train them on maintaining their physical and mental health by bringing awareness and providing them with prevention methods. Along with obesity, Elite Fitness would like to target and help children and young adults, specifically in areas of poverty and crime, so that these individuals would not be subjected to their living conditions but rather focus on the positive, physically and mentally stronger and healthier.
Elite brings you a variety of specialty training that most gyms don't offer.
Our intense cardio kickboxing and boxing classes will have you burn up to 1000 calories per workout.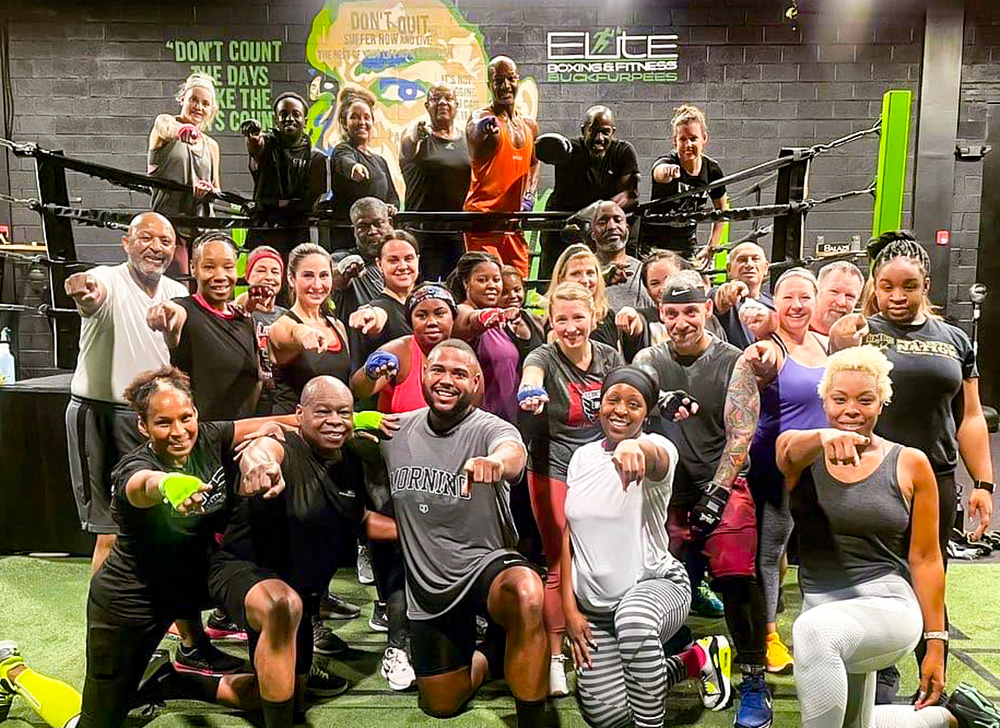 ---
We offer a one-stop location for cardio and strength fitness classes in Columbia, MD.
Boxing & Fitness Classes
Technical Boxing
Cardio Boxing
Cardio Kickboxing
Kids Boxing Classes
Boot Camp
Conditioning Camp
Fitness Group Training
Interval Training
Strength Training

We know a lot that people prefer to do in the fitness world, so we try to take your fitness up a notch; we offer many amenities to keep you in tip-top physical shape.

---

Coming to the gym can be challenging, but no worries at Elite Boxing & Fitness Gym!

It can be intimidating to enter a new gym, especially if you're worried about the pressure of keeping up with everyone else or feeling judged. That's why we work hard to create a relaxed atmosphere where everyone can feel comfortable and supported. Our staff always goes the extra mile to ensure that each member feels welcome, and we have a variety of classes and equipment to meet the needs of everyone, from beginners to experienced athletes.

We believe everyone should have access to quality fitness and health resources, and we strive to ensure that happens at Elite Boxing & Fitness. Whether you want to get fit, lose weight, or stay active, we want you to know that you have our support.

---

Elite SFN is a certified member of the USA Boxing organization (Potomac Valley Association).