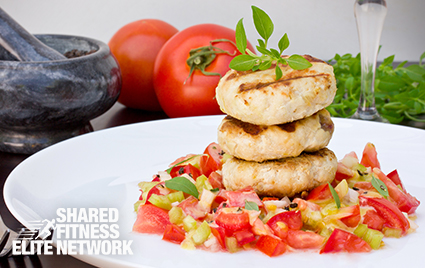 Chicken Burgers with Relish
Special Diet: Dairy Free
---
Flavorful chicken burgers and a classic Southern-style corn relish ramp up your regular cookout fare. The relish doubles easily if you'd like to use it as a side dish.
Ingredients:
1 1/4 pound ground chicken thighs
1/2 teaspoon plus a pinch coarse sea salt, divided
1/4 teaspoon ground black pepper
3 tablespoons cider vinegar
1 tablespoon sugar
1/2 teaspoon powdered mustard
1/2 teaspoon celery seeds
1 cup corn kernels (from about 2 ears corn)
1/2 medium red or green bell pepper, (about 1/2 cup)
1/2 jalapeño pepper, seeded and finely chopped
1/4 cup mayonnaise
4 whole grain hamburger buns
Method:
In a medium bowl gently combine ground chicken, 1/2 teaspoon salt and pepper. Form chicken mixture into 4 equal patties. Arrange patties on a parchment paper-lined baking sheet, cover loosely and refrigerate at least 1 hour.
Meanwhile, in a large bowl, whisk together vinegar, sugar, mustard, celery seeds and remaining pinch salt and set aside. Combine corn and 4 cups water in a medium saucepan, and bring to a boil. Reduce heat to a simmer and cook until corn is tender, about 5 minutes. Drain well. Return corn to the saucepan and add bell pepper, jalapeño and vinegar mixture. Bring to a boil. Reduce heat to a simmer and cook until vegetables are tender and most liquid has evaporated, about 15 minutes. Serve relish warm, at room temperature or chilled.
Prepare a grill for medium-high heat cooking. Cook burgers, turning once, until no longer pink inside, about 6 minutes. To serve, spread mayonnaise on buns and top with burgers and corn relish.

Nutritional Info:
Per Serving: Serving size: 1 burger, plus relish, 430 calories (170 from fat), 19g total fat, 3g saturated fat, 125mg cholesterol, 660mg sodium, 32g carbohydrates, (3 g dietary fiber, 10g sugar), 33g protein.