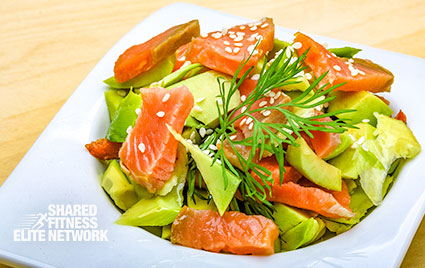 Salmon And Avocado Salad
Special Diet: Dairy Free, Gluten Free, Sugar Conscious, Wheat Free
---
This easy and quick salad is a great way to use leftover cooked salmon. Serve a spoonful atop a green salad with crisp bread or large whole grain crackers.
Ingredients:
1 pound salmon fillets or steaks, poached, grilled or broiled, cooled
1 avocado, cubed
1/2 red onion, thinly sliced
2 tablespoons capers
2 tablespoons lemon juice
2 tablespoons extra-virgin olive oil
2 tablespoons chopped fresh herbs, such as dill, basil, parsley, tarragon and/or chives
1/4 teaspoon fine sea salt
Lemon wedges for garnish
1/4 teaspoon ground black pepper
8 lettuce leaves, such as butter or green leaf
Method:
Break cooked salmon into chunks in a bowl. Gently toss with avocado, onion, capers, lemon juice, oil, herbs, salt and pepper. Refrigerate at least 30 minutes to allow flavors to blend. Serve over lettuce leaves with lemon wedges.
Nutritional Info:
Per Serving: 360 calories (210 from fat), 24g total fat, 3.5g saturated fat, 80mg cholesterol, 520mg sodium, 6g carbohydrates, (4 g dietary fiber, 1g sugar), 30g protein.