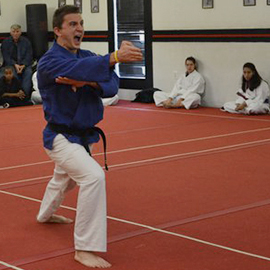 Joshua Craddock
Personal Trainer | Fitness Instructor
A Fitness Leader in Howard County
Joshua Craddock has been a personal trainer and instructor here at Elite SFN since its inception in August 2013. Josh graduated from Towson University in the spring of 2009 with degrees in Exercise Science and Sport Studies. He has been working full-time in the health and fitness field for approximately 7 years, performing a variety of roles, including teaching an array of group exercise classes and specialized programs, personal training, writing exercise prescriptions, delivering health and wellness seminars on a variety of topics, and managing several fitness facilities.
In addition to his role at Elite SFN, He also manages and promotes fitness facilities and wellness programs for the Department of Defense at Fort Meade, MD. Josh regularly teach classes at my dojo, Klotz Institute of Karate, too. He is a 2nd degree black belt in Tang Soo Do karate, and has been training in a variety of martial arts and combat sports for twenty-two years, along with instructing since he was about thirteen. Joshua is also a running coach for a race training program at Fort Meade, and has completed 6 marathons. Josh has extensive experience working with individuals of all backgrounds, ages, and fitness levels, from young children to the elderly, and from completely de-conditioned clients to high level athletes.
Joshua Craddock holds certifications or have completed courses in all of the following:
ACSM Certified Exercise Physiologist

NSCA Certified Personal Trainer

AFAA Primary Group Exercise Instructor

AAAI/ISMA Certified Sports Nutrition Consultant

BeachBody PiYo AFAA Group Cycling

AFAA Group Resistance Training

Les Mills Body Combat

Trigger Point Therapy

AAAI/ISMA Mat Pilates 1

Exercise, Etc. Senior Fitness Specialist

Exercise, Etc. Functional Fitness Specialist

YogaFit Level 1 Teacher Training

CPR/AED
"My interests include music, concerts, comics, nutrition, martial arts, boxing, running, cycling, weight lifting, yoga, Pilates, group exercise in general, skiing, snowboarding, golf, and most other athletics. I am not only enthusiastic about physical activity, but also the psychological and social components of wellness, as well. Promoting an active and healthy lifestyle is not only something that I do for a living, but more importantly, it is my passion and it is something I try to uphold each and every day. I say this not to come across as snobbish or exclusive, but rather with the exact opposite intention: I believe that physical and mental well-being is meant for EVERYONE, and it is my mission to do whatever I can to help individuals realize their personal best."
I am extremely excited and privileged to be serving the clientele here at Elite SFN, fulfilling any and all of your fitness and health needs.
If you have any questions or concerns regarding anything health or fitness related, please do not hesitate to direct them my way. Drop in to one of my classes or feel free to simply say hello any time; until then, happy working out!