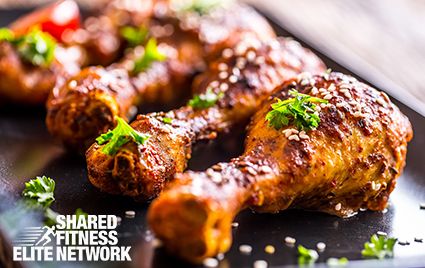 Grilled Salsa Drumsticks
Special Diet: None
---
Perfect for a picnic or back-porch supper, let family and friends reach for a platter of these drumsticks marinated in salsa and orange juice that can be served hot, room temperature or cold.
Ingredients:
8 chicken drumsticks (about 2 lbs)
1/2 (16-ounce) jar 365 Everyday Value Organic Salsa
1/3 cup 365 Everyday Value Organic Orange Juice
1 tablespoon expeller-pressed canola oil
1/2 teaspoon fine sea salt
Method:
In a large bowl, toss together all ingredients; cover and chill 8 hours or overnight. Preheat grill to medium heat. Grill chicken, turning frequently, until cooked through and deep golden brown, 20 to 25 minutes.
Nutritional Info:
Per Serving: 280 calories (140 from fat), 15g total fat, 3.5g saturated fat, 95mg cholesterol, 1190mg sodium, 6g carbohydrates, 28g protein.