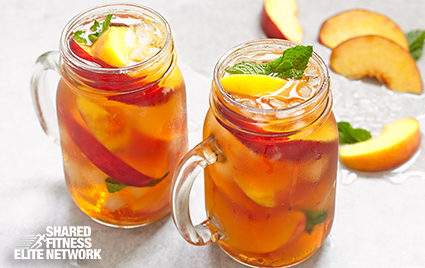 Peach-Berry Iced Tea
Special Diet: Dairy Free, Gluten Free, Low Sodium, Vegan, Vegetarian, Fat Free, Wheat Free
---
Fresh stone fruit offers intense flavor and nutrients, and berries are some of the most nutrient-dense foods. For a more festive presentation garnish with fresh mint.
Ingredients:
8 rooibos or green tea bags
2 peaches or nectarines, peeled, pitted and sliced
1 cup blueberries or sliced strawberries
3 tablespoons light agave nectar
Method:
Put 6 cups water into a medium pot and bring to a boil. Remove from the heat, add tea bags, cover and steep 6 to 7 minutes; discard tea bags.
Meanwhile, purée half of the peaches and blueberries with agave nectar in a food processor or blender until smooth; transfer to a large pitcher with remaining fruit. (Alternately, muddle fruit in pitcher with a wooden spoon.)
Add 3 cups ice cubes to pot with hot tea and stir until melted. Pour tea into pitcher with fruit. Serve immediately over ice, or chill until ready to serve.
Nutritional Info:
Per Serving: 50 calories (0 from fat), 5mg sodium, 12g carbohydrates, (1 g dietary fiber, 11g sugar).