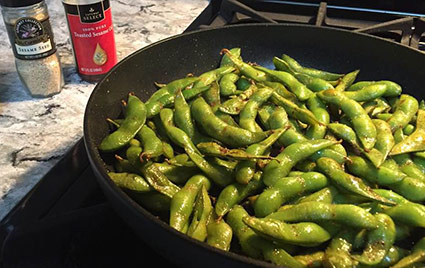 Edamame Maryland Style
Special Diet: Dairy Free, Gluten Free, Low Sodium, Vegan, Vegetarian, Hight Fiber, Wheat Free
---
Tasty, healthy & cheap snack to please everyone! You can buy edamame frozen in bulk and have available at any time.
Ingredients:
3 cup edamame in pods
1 tbsp sesame oil
2 tsp sesame seeds
Old Bay
Directions:
1. Defrost the edamame by boiling them for about 5 minutes or microwaving them until tender crisp. Dry them off using a kitchen towel.
2. Add the sesame oil to a pan over medium high heat. Add Old Bay. Once hot, add the edamame and cook for 3-4 minutes, stirring often, until beginning to char and brown.
3. Add additional sesame oil (if needed) and saute on low heat for about 1 minute. Turn off heat and sprinkle with sesame seeds. Add additional Old Bay to taste.