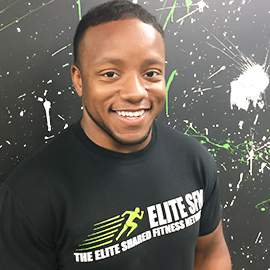 Christopher Ealey
Boxing Instructor
Christopher Ealey is a well-recognized personal trainer, boxing and fitness instructor. His fitness methods range from wrestling, boxing, cardio, weight-loss, health plans, and more.
Beginning as a child, Chris would read books on health and fitness and would do as much as possible to help others and himself to stay in shape and eat right. At such a young age he looked up with the highest amount of interest and respect for those who are athletes and trainers as they make a big difference, in hopes of one day doing so himself. In his younger years he began balance and discipline by committing to gymnastics.

Chris officially began his journey into fitness during his high school years starting with wrestling, personal training and competing in competitions. After graduating high school in 2008, he continued to compete through the state of Maryland. Throughout his years he has studied and instructed personal training, boxing, wrestling, jujitsu, gymnastics, health plans, and much more!
For years, he has dedicated his life to helping other through fitness and health as he has strong passion for helping people and making a difference. Chris has gained a thorough understanding of the role of athletic training and the importance of upholding fitness and health.
Chris is passionate about the fitness industry and am committed to improving the health and wellbeing of individuals. He approaches his work with a high level of initiative, reliability, empathy and determination.

His outstanding communication skills, level of health-fitness and work well both autonomously and in team environments.