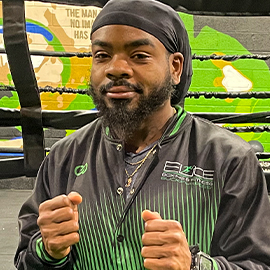 Darryl Bagley
Technical Boxing, Youth Boxing
Every opportunity Darry gets, you will see him in the ring sparring with a local champ or sharing his knowledge (Darryl loves books as much as boxing) and helping people make progress.
Playing sports from 7 years old, he was a D2 wrestler at Colorado State University while studying *Kinesiology. Over time he discovered his love for boxing and started competing in amateur boxing and golden gloves.
So don't be surprised if you see him becoming a pro fighter one day.
Here are a few fun facts:
Favorite Food
Pasta
Pump Up Music
90s-00s hip hop
Pet Peeve
Wasted Time
Favorite Muscle To Work
My Brain
Fun Fact
I love the water
Training Specialty
Boxing/HIIT
*Kinesiology is the study of the body's movement. Kinesiology specialists use their knowledge of human physiology and movement to help recover patients' mobility and improve their lives through exercise.