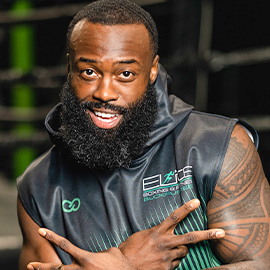 Kwame Ritter
Professional Fighter, Boxing Coach
Kwame is passionate about boxing, he's made it his life mission to focus on the sweet science, and he is currently active as a professional fighter who is 11-0 with nine kos. He has trained and sparred with huge names in the business, such as Canelo Alvarez & Jamie Mungia. Kwame has trained and worked with at-risk youth kids & programs and tons of professional and amateur fighters who have won the golden gloves. If you think boxing is easy, his workouts are an experience like no other. Even if you aren't a fighter, his contagious energy will make you feel like you are the world's champ.
The Sweet Science of Boxing
He's always has been into the boxing scene and has mingled with local boxing celebrities such as Nicholas, Walters, Amir Mansour, Roy Jones Jr, Emmanuel Stewart, Hector Camacho, and Paul Williams. Kwame has also worked with several fighters who have headlined on ESPN, HBO, and Showtime. Dedicating his life to boxing he has worked in numerous countries training people and training for fights and teaching across the world including St.Croix, Holland, Dubai, Mexico, Panama, and Colombia.

Kwame has trained two national ringside champions in 2017. He also trained retired Ravens defensive end Trevor Price and works with numerous D1 and D2 college athletes, MMA fighters, and boxers who are soon to turn pro and become a big names in the sport. Growing up rough he wishes to reach out to those in life who need help and teach boxing as a tool to help build confidence not only in fighters but people who need a push to be great in life at anything they do.

It's helped him become the person he is today and gives him the most pleasure in serving in his local community working with at-risk kids, and troubled youth.
---
Sign up for a free fitness class today!