"Whether you want to get fit, lose weight, or stay active, we want you to know that you have our support."
– Elite Staff
FIND OUT WHY WE ARE THE BEST BOXING & FITNESS GYM IN COLUMBIA, MD
GET SOCIAL @ELITESFN
Experience a gym like no other
–

Boxing and Kickboxing Bootcamps



–

HIIT interval training/conditioning camp



–

Indoor cycling with fantastic energy

We have a wide range of equipment to suit all physical fitness levels and goals. We have something for everyone, from free weights to cardio machines to one on one personal training. We also offer group classes for members who want extra support and motivation.

Our facility is clean and secure, with trained staff to help you reach your fitness goals. We also have a variety of amenities, such as lockers and showers.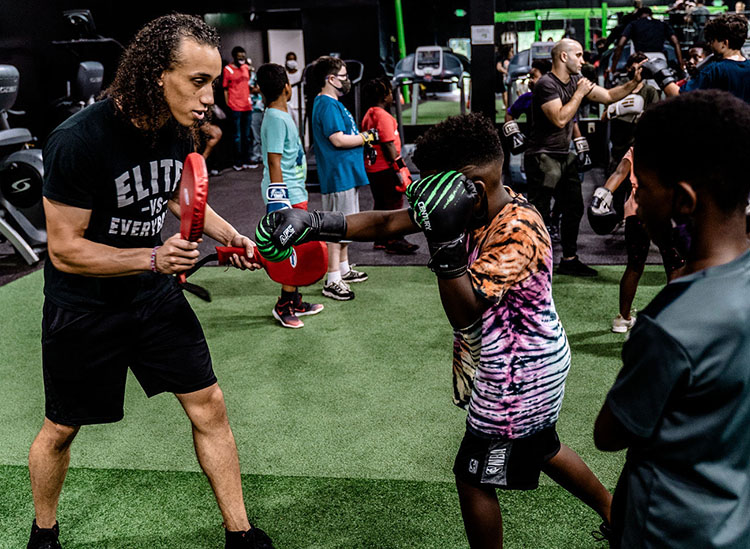 Youth Boxing
Seeing how much the students grow in confidence and self-esteem when they come to the Elite Kids Boxing class is fantastic. They gain an appreciation for the sport and develop strong bonds with each other. It's truly inspiring to witness.
It's a great program that encourages all students' individuality and self-worth. Not only do they learn the basics of boxing, but they learn valuable life skills as well.
CARDIO KICKBOXING CLASSES
Kickboxing is a high-intensity sport with aerobic demands, and cardio and conditioning exercises are essential components of kickboxing workouts.
Our kickboxing classes build strength and stamina while getting an intense cardio workout. Our instructors are experienced and certified in kickboxing, and they can help members develop their skills while improving their overall fitness levels. We also have a variety of kickboxing classes to choose from, so there's something for everyone.
If you're looking for an intense workout that combines cardio and conditioning, our kickboxing classes are the perfect fit.
---
Our Fitness classes in our Columbia, MD gym include Cardio Boxing, Boot Camp, Cardio Kickboxing, Kids Boxing, Fitness Group Training, Technical Boxing, and Strength & Fitness Interval Training.
SELECT FREE CLASS
Elite Boxing & Fitness Gym Classes in Columbia
Find Your Personal Trainers, Boxing, Fitness and Self-Defense Classes in Columbia, Maryland
We offer a welcoming and energizing environment for all fitness levels and goals, including boxing, self-defense, and personal health and fitness. Our personal trainers and group fitness instructors are always ready to help you jumpstart your fitness journey and achieve your goals. We offer a variety of fitness and self-defense programs, including boxing and kickboxing, to help you reach success with your boxing and weight loss goals. Feel free to come by and check us out!
CONTACT ELITE SFN TODAY