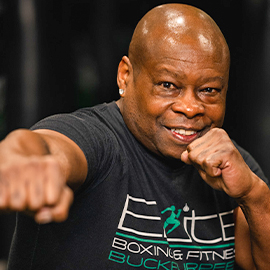 George Tyler
Personal Trainer, Fitness Instructor
---
CARDIO CONDITIONING AND WEIGHT LOSS SPECIALIST
George Tyler (also known as GT), a leading Fitness Expert in the country, has trained high school All-Americans, State Champions, college and professional athletes, and professional bodybuilders. In its over 25 years of business, George and his dedicated staff have transformed hundreds of lives through weight loss programs and positive motivation. The GT Pro Trainer programs will guide your fitness journey with "No Limits." Go Beyond the Sky!
From Billy Blanks and now to his rhythm, he got it going on. If you like to sweat, that's the class for you! His nonstop class will push you to your new limits with a playlist so on fire that wanna make you dance.
George's Legacy of Fitness
Fitness has been a major part of Georges's life as far back as 9 years old! He always excelled in fitness. And he always loved to entertain people. So he decided to combine the two. That's how He keeps his love for fitness! He loves seeing people improve and change their lifestyles, so he will always ensure your working out is fun.
---
Some of George's Fitness Classes